How to create an Adobe menu?
Adobe is a well-known computer software company, it has historically focused upon the creation of multimedia and creativity software products. Though Adobe Systems Incorporated develops so many excellent software, services, resources, etc, you will find everything quickly with the help of Adobe menu, and won't get lost on their website. How does Adobe menu navigate website effectively? Let's take a look at snapshot from Adobe website: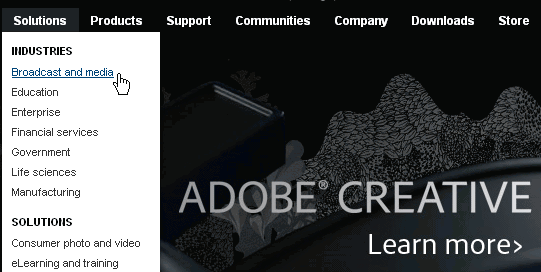 Adobe Menu - Features:
In this Adobe menu, menu background and website background are the same, which makes you feel harmonious. At the first sight, just plain text links are on website, but you will see so many menu items after the mouse is over on the top adobe menu; in popup menu items, some items are classified into several categories by Bold and big-size font; the item with link guides the visitors to right web page with one click.
Adobe Menu - Creation:
We will create an adobe menu starting from built-in template from PrestaShop Themes, follow the steps to make the menu below:
Launch the program, template windows open, and you can choose menu "Simple > Underline ".



In Menu Tree, click the button to select all popup menus; enter the Tasks Panel, select the option "Popup Menu > Border", and set border as 0 in property panel below; Unselect the top-level menu, enter the "Popup Menu > General" to set displaying as vertically; Enter the option "Popup Menu > Popup Direction", change the popup menu direction.


Still in Menu Tree, click the button to select all separators; right-click the selected separators to popup the context-menu, and choose "Delete" to delete all the separators.
Choose the top-level menu items shown on website, and set their background color as website background color. Enter the option "Menu Item > Background", and set bg color as website color for mouse out and mouse over.



Choose 3-level menu items under the menu item "DHTML Software", cut these menu items and paste them after "News" is selected, which makes them become 2-level menu items; move up & move down to adjust their position.
Pick up "DHTML Software", enter "Menu Item > font" to set the text as bold.


Select "Sothink DHTML Menu", enter "Menu Item > General" to modify the text and link.


The basic steps to create adobe menu are over, you can download Sothink DHTML Menu to try building your ones, and attempt to find out more magic functions.

Adobe Menu Builder - Sothink DHTML Menu
The professional web menu builder helps you create adobe menu in clicks. This web menu maker allows you to create cross-browser, fast loading and SE friendly drop down menu without writing a single line of JavaScript code.

As an adobe menu tool, this menu maker provides rich templates and pre-set styles to start menu design easily. Seamless integrations with main stream HTML editors enable you to add menus to webpages conveniently. The menu appearance can be fully customized.


Useful Links
Product Info
Supports
Awards
Reviews & Testimonial
Tips and Tutorials