How Eye Tracking Study Results Can Improve Web Design
It's said that you only get one chance to make a first impression. When it comes to your web design, that chance measures out to about 2.6 seconds, according to researchers. It takes about that long for an internet user's eyes to go the specific area of a website that influences their first impression.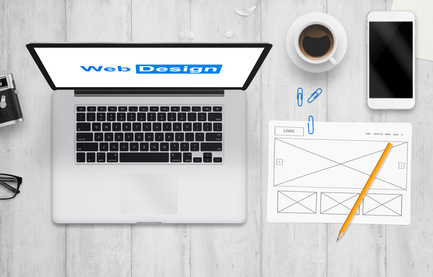 Image Credit: fotolia.com
Eye Tracking Study Results Where Users Focus Most
The results of a study conducted at Missouri University of Science and Technology revealed that internet users spend less than three seconds scanning a website before they focus on a particular section. Then they spend an average of 180 milliseconds (0.18 seconds) focusing on one particular section before making a decision about whether to move on.
If the website doesn't load in two seconds or less, chances are very good that the internet user will not come back to your site. They will simply click away and move on to a different one.
If your website is on a shared hosting plan, your site's loading speed may be effected if a co-owner experiences a large spike in traffic. Other sites may find that their loading speed is slower as a result. You don't necessarily have to spend a lot of money to get a good hosting plan; it makes sense to compare sites and find the cheapest web hosting plan that will give you the features you need at the best price.
The study revealed internet users also spent the most time looking at these sections of a website:
Study participants spent approximately 6.48 seconds on this area of a website before moving on. It should be clear and relatable to the product or service you are promoting, using attractive color combinations that are not overwhelming.
The study subjects were also drawn to the main menu, spending an average of 6.44 seconds viewing it. Website clutter is something to be avoided. Site visitors want to be able to see where they should go to find the information they need. Excessive "noise" in the form of too many Flash animators, auto-play videos and background music takes away from the effectiveness of your website.
This part of the website was the next most popular place for study participants to focus their attention, and they spent about six seconds here. Make sure your search box is easy for your site visitors to find and that they don't have to spend time "searching" for it.
The website's main image captured study participant's attention for approximately 5.94 seconds. To make a great impression with your site visitors, move away from stock photos and invest in higher quality images.
Content may be king, but you only have just over 5.5 seconds to capture your site visitors' interest, according to the data collected from the study participants. Make sure that the website is stocked with content that is broken up with subheadings and bullet points so that a reader can scan it easily. The most interesting, relevant content can get lost if it is not presented properly.
Internet viewers do look all the way to the bottom of the page, and this is where you want to place your call to action. The study participants spent about 5.25 seconds looking at this part of a web page. Don't neglect to tell your site visitors exactly what you want them to do next. Would you like them to:
Share an article by clicking your social media buttons?
Leave a comment to start (or participate in) a discussion?
Buy a product or sign up for your newsletter?
Subscribe to your emails?
By knowing where your site visitors will focus their attention on your site, you will be able to improve your web design. Your website will be a more effective online tool as a result.